Italian-Canadian Veterans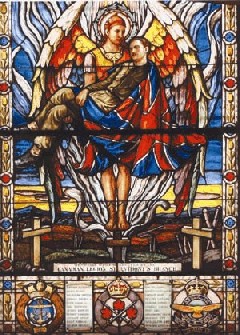 (Photo: Roger Nincheri) A stained-glass window from St. Anthony's Church called "Fallen Soldier." This window was made by Guido Nincheri and was erected through the generosity of the Canadian Legion St. Anthony's Branch.
Many of Italian-Canadians served their adopted country during both the First and Second World Wars. We honour their memory by displaying just a handful of these courageous veterans.

One of these veterans was Joseph Nasso. Click here to read his story.
back to the top