"The community was very involved in the study," says City Councillor Elizabeth Arnold. "We consulted residential and commercial residents and received a lot of feedback."
Out of the time-consuming consultations and never-ending meetings, a clear vision for the future of the Preston Street area developed. Residents want to build on the Italian heritage of the area. They want the area to be more pedestrian friendly, which will involve such things as widening the sidewalks. They want to add to the gateway features, which will mean building an arch like that situated on Carling and Preston at the other end of the street. And they want to continue their unique blend of residential and commercial housing, eventually increasing the number of family homes in the area.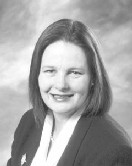 City Councillor Elizabeth Arnold thinks that the Preston Street area has a bright future.
"Basically, we want a lively, pedestrian friendly community that attracts visitors because of these features and its Italian heritage," explains Councillor Arnold.
Basically, they want to remake the Preston Street area into what it was 40 years ago – a friendly, tight-knit community. If all goes according to plan in 20 years the Preston Street area will once again be "The Italian Village."